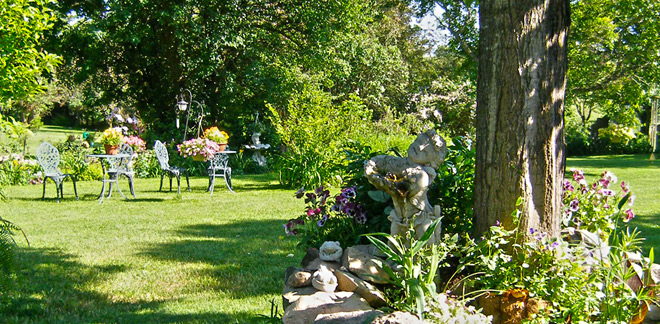 Stratford Ontario Bed and Breakfast ~ A Valley View B&B
At Valley View B&B, pampered privacy is key. Nestled perfectly onto our 55 acre country property just outside Stratford & London Ontario; you'll find a true home away from home with our bed and breakfast. We've thought of everything from the private entrance, the ensuite bedroom, the washer and dryer, central air, a dining area and living room with a double sofa bed to the fully equipped and generously stocked modern kitchen. Just a few of the outstanding features. Talk about the comforts of home! And don't forget, your own fridge stocked with breakfast goodies so you can rise and shine at your leisure. Good morning!
Just outside the door from our Ontario bed and breakfast rental are beautiful gardens, wonderfully maintained grounds that go on forever, and oh yes, way out back the Fish River winds it's way through the countryside. Rural perfection? We think so and bet you will too. Our grounds beg exploration ..... take a quiet stroll through the gardens, a free art lesson, or if you're feeling energetic, hike on down to the river. Peaceful, serene .... perfect escapism. And the star gazing isn't bad either! Sweet dreams. Open year round.


CELEBRATE WITH US!
Honeymoon, anniversary Engagement?
LOVE makes the
world go 'round.
Ask about our Romance Packages filled with special little touches.
Ideally Suited for
up to 4 students.
B&B Rates: $100.00 Double
$20.00 Per extra person.
Instructional Rates: $35.00
Per Hour private or group.
A perfectly private, enchanting hideaway for your romantic getaway or honeymoon. Just you two!
Everything that grows holds in perfection but a little moment
-Sonnet 15 - William Shakespeare.
Come for The Festival | Stay for the View!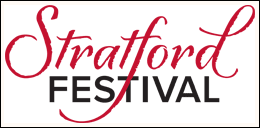 Just down the road from ordinary, around the bend from usual and only 20 minutes from both Stratford and London is Valley View B&B... Welcome.
Private, completely self contained guest suite with full kitchen.
Private entrance
Separate bedroom with double bed and ensuite, sofa bed in living room
Air conditioning
Fridge stocked for delectable full breakfast at your leisure
Satellite TV
Clearly marked river and woodland trails
Beautiful, extensive grounds for quiet strolls and lovely hikes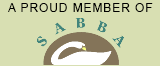 Stratford Area Bed & Breakfast Association.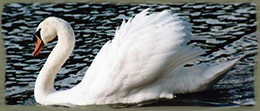 Stratford, beautiful Stratford is just 20 minutes from Valley View Bed and Breakfast .....world class theatre .... Art in the Park .... the beauty of the Avon River ..... wonderful Farmers Markets .... antiquing .... candlelit dinners overlooking the river ..... backstage tours ... in Stratford vacation pleasures abound. Come see for yourself!