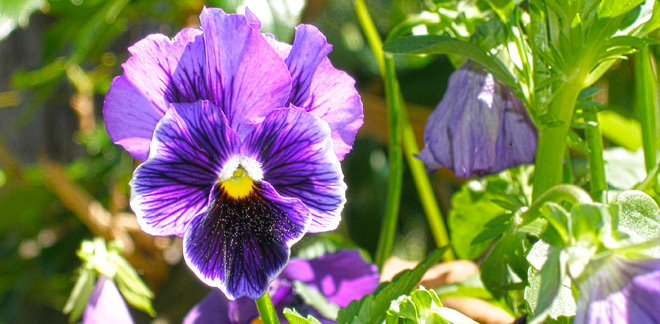 Features & Amenities
Wonderfully private B&B accommodation
Start your day with your favourite breakfast in your own home away from home, whenever you want. Everything you need is in your fridge and at your fingertips. Bacon and eggs, fresh brewed coffee, toast and jam. Good morning sunshine!
The fridge is stocked with breakfast foods and all the makings - bacon, eggs, bread, butter, jams, cereal, milk, coffee, tea, juice, cooking oil, salt, pepper, ketchup. We told you we thought of everything to make your vacation relaxed, carefree and easy. Home sweet Valley View.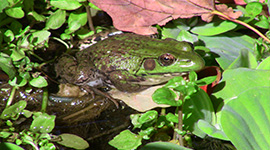 Naturalists will be in heaven here at ValleyView B&B with our clearly marked river and woodland trails. Take your time, soak up the delightful natural beauty that surrounds and abounds. You might catch sight of deer quietly drinking from the river or come upon a family of wild turkeys as they gobble, gobble through the woods. Unwind, enjoy and be at one with nature. 
modern kitchen with all appliances
full electric stove, side by side fridge, microwave, toaster oven, coffee maker, ironing facilities and all needed kitchen equipment
cooking utensils, dishes
fridge supplied with breakfast ingredients for a self catered full breakfast.
And out back....well it just doesn't get any better. Stroll our 4 acres of beautifully landscaped grounds or go further to explore our entire 55 acres. The river runs along the back of the farm like a reward at the end of the trail. Serene escapism. All of this without ever leaving your delightful home away from home. Welcome to Valley View B&B. Happy trails to you.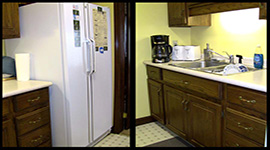 The kitchen is the heart of the home. Everyone knows that! At Valley View we want you to have the best vacation possible so we've set out to create a perfect home away from home right down to the kitchen. Not only will you be able to settle in and enjoy breakfast at your leisure, if it strikes your fancy, grab some wonderful local ingredients from the farmers markets and create those memorable vacation feasts like only you can. Bon Appetit!
Bed and Breakfast ~ Stratford ON
Private entrance
Full modern kitchen
Bedroom with full bedroom suite, double bed, large dressing table and armoire, lots of drawers, double closet
4 piece ensuite with full size washer and dryer
living room with pull out sofa
we can now sleep 5 by putting a single full height deluxe air bed in the bedroom
full dining room suite
satellite TV
large windows facing east and south with beautiful views and good vantage point for watching all the birds that come to feed year round.
vertical blinds on all windows for complete privacy
air-conditioning,ceiling fan
all towels and linens, iron
Map to A Valley View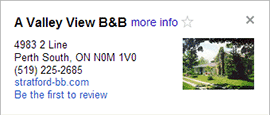 Valley View B&B is located 20 minutes from the edge of Stratford, 25 minutes to the theatres, 20 minutes to the edge of London and 40 minutes to the Lake Huron beaches. Now that's location!
St. Mary's is just 10 minutes from Valley View offering 2 full sized supermarkets plus a specialty cheese and deli store and another store with hand made chocolates to die for! There's McCully's Farm Market with a wonderful selection of naturally raised meats and delightful maple products. Don't miss the Saturday morning Farmers Market with fresh produce and baked goods.
Check Availability