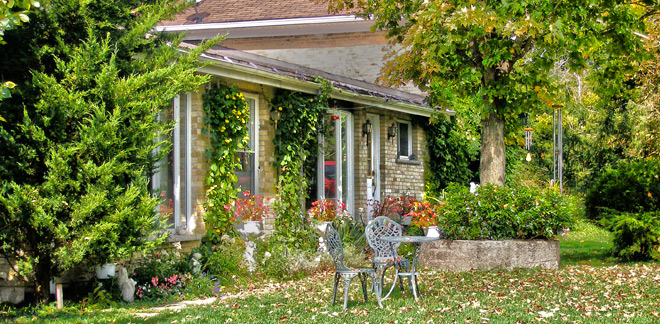 Guest Reviews & Comments
We enjoyed our time here. You have a lovely home. We would gladly return, and next time we'll try to do something more around your beautiful property.
~ Sarah & Evan - Toronto, On - Sept 1-3, 2017 ~
PS We loved the art lesson!!
Our second stay enjoy this one too! love to sit and watch the birds out the window, the weather was perfect as well as the peace & quiet. Take Care
~ Cliff & Baryle. Cochrane AB - Sept 12-17, 2017  ~
Thank you for hosting us in such a wonderful way!! We felt as if we were coming home!! Best Wishes.
~ Mike & Linda Dayton OH ~
Our fourth visit to your beautiful home was extra special as you took the precious time to show us your magnificent dogs and give us a treat with your fascinating and informative introductory art class. Wow!!! Your generosity and seemingly Boundless Energy Plus your willingness to do whatever you can to make our brief stay enjoyable make this one of our favorite destinations many thanks .
~ Frank & Ida, Cwilich, Laval, Quebec - July 3-6, 2017 ~
Thanks again for the lovely stay!
~ Miriam, Austin, Ryan and Allison - June 29, 2017 ~
Jacqui , your special Hospitality made our visit most relaxing. Thank you for providing excellent local information. This cozy apartment on these beautiful grounds provided everything needed for nourishing Body and Soul.
~ Donna, Bill & RJ Larmington Hilles, MI USA. June 26-28, 2017 ~
We came for a girls getaway and could not have been happier. The guest Suite is perfect grounds are more than awesome and the enjoyment we had watching the birds , squirrels and bunnies while we had morning coffee was brilliant. Thank you so much it was a pleasure to meet you and of course Bentley - we will be back!
~ Donna, Caltus & Mary  ~
Thanks for your extraordinary Hospitality. We appreciated your introduction art class . your B&B was a delight to stay in good luck with your dogs we enjoyed meeting them.
~ Sincerely Ronalee and Ronnie Montreal July 3-6, 2017. ~
What a wonderful place - we really enjoyed our stay. It was very relaxing and a perfect location to do day trips. The accommodations were great - thank you for all the good food - the unit was well equipped. It was nice to meet you! 
~ Dolores & Bob, Cornwall, Prince Edward Island. June 9-13, 2009. ~
Thank you so very much for the wonderful vacation. You have a beautiful piece of property and beautifully maintained. You are both wonderful & enjoyable people to visit with. God Bless.
~ Steve & Judy, Niagara, Ontario. June 27, 28, 2009. ~ 
 Felix and Jacquie. Thank you for another wonderful stay @ Valley View. This time we managed one of the trails down the valley. Next time we'll see the rapids (we didn't take the map!) The food was perfect - as always - and the accommodation complete. Thanks for the wild life show outside of our window and the cool weather. 
~ Tom & JoAnne, Michigan, U.S.A. July 2-4, 2009. ~
 Another wonderful restful stay with you! The flowers and birds are a delight. Despite the rain we enjoyed our time here. Look forward to seeing you again next year when we return to the Stratford Festival. Best regards.
~ John and Edna. Michigan, U.S.A. May 28, 29, 30. 2009. . ~
We were so comfortable that we didn't really want to leave to see anything. Would have been content to sit and watch the birds! Thanks for your hospitality. 
~ Barry & Mary, Victoria, B.C. 22-29/07  . ~
 Although we are locals we were still able to enjoy this fantastic establishment. Thank you so much for your hospitality and kindness during this very special time in our lives. Thank you soo much. 
~ Newlyweds, Brian & Emelie. July 15, 2007 . ~
What a treat! Surrounded by wonderful nature, flowers, eating breakfast while watching the birds and squirrels eat theirs, the hikes and the very educational art lesson - we couldn't have asked for more. Thank you so much for your hospitality and warmth.
~ Tina & Norman, Montreal, Que. Aug. 4 2007  . ~
Thanksgiving! Once again, a special few days were spent here in your peaceful surrounding, along with all the comforts of home! The food selection you provided was truly "bountiful"! We could not have asked for more! Thank you so very much Jacqui & Felix for the wonderful anniversary surprise waiting for us upon our arrival! That was so very thoughtful and truly appreciated! We had a wonderful time, and thank you both for helping to make our anniversary & Thanksgiving weekend a special one! See you again, with warm regards,
~ Pat & Ralph. Oct 11-13/08 . ~
What a wonderful respite! Your accommodations are perfect offering privacy, a peaceful setting and panoramic views.....we enjoyed watching a variety of birds congregate at the feeder as we dined on and abundance of food you so generously supplied for us! Hiking down to the river was exhilarating (if not arduous for 50-something's!) and taking in some golf and dinner in St. Marys topped off a very pleasant Saturday. Blair enjoyed fly fishing at a nearby mill pond while I basked in the serenity of solitude on a spectacular autumn Sunday morning. Could one ask for more? We think not! We shall return! Thank you so much. 
~ Darlene & Blair, LaSalle, Ontario.October 28-30/05  . ~
Just down the road from ordinary, around the bend from usual and only 20 minutes from both Stratford and London is Valley View B&B... Welcome.
world class theatre (the plays at Stratford go into November. They do have some discounts on tickets in October (late fall).
Art in the Park
The Avon River
Backstage tours
A converted quarry has become Ontario's largest supervised swimming pool. Spring fed, "The Quarry" is a popular spot in the heat of summer.
On the way to St. Marys you can often see the Great Blue Herons fishing in the Thames river.
Check Availability