B&B Rates and Reservations
The summer months are a busy time for us; our accommodations especially surrounding the Stratford festival can fill us up fast so please be sure to give us a quick call to book your reservations so you won't have to worry about missing out!

Call to book your B&B accommodation today!
Telephone: (519) 225-2685 Email:

Check Availability
Our Accommodations include 1 double occupancy suite available year round. You will be the only guests in our accommodation suite which includes 1 double bed, 1 queen sofa bed and 1 fold away single cot.
Double Occupancy
$125.00/Night
Additional Guests
$25.00/Night
Check in time 3.00 p.m. or by request ~ Check-out: 11:00am
Stay 4 nights & your 5th nights Free!
Additional Information
Terms and Conditions
- 2 night minimum stay is required.
- A deposit is required.
- Cancellation penalties may apply.
Special Interests:
Children: Please inquire
Pets: Please Inquire
Restrictions:
No Smoking
For specific rates and availability please email: info@stratford-bb.com with your dates of interest or phone: (519) 225-2685
ART ESCAPE PACKAGE
Ideally Suited for
up to 4 students.
B&B Rates: $100.00 Double
$20.00 Per extra person.
Instructional Rates: $35.00
Per Hour private or group.
Another wonderful restful stay with you! The flowers and birds are a delight. Despite the rain we enjoyed our time here. Look forward to seeing you again next year when we return to the Stratford Festival. Best regards,
John and Edna. Michigan, U.S.A.
VALLEY VIEW B&B ACCOMMODATION STRATFORD
Enjoy perfectly pampered privacy, and beautiful extensive grounds with woodland and river trails. Be at one with each other and the beauty of nature and yet a short drive to the theatre or London night life.
A private, enchanting hideaway for your romantic getaway or honeymoon. Just you two!
Map & Directions to A Valley View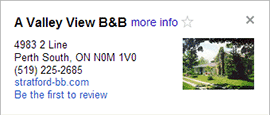 ValleyView Bed and Breakfast is just a hop, skip and a 20 minute jump from both Stratford and London.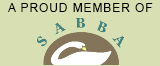 Stratford Area Bed & Breakfast Association.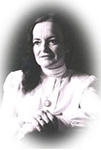 Your hostess, Jacqui is a professional artist who teaches art classes in drawing, watercolours and oils for the cities of London, Stratford and the town of St. Mary's. Jacqui would be most pleased to share her delightful expertise with you, during your stay at Valley View B&B by offering a 'free' one hour art lesson. Free lessons are offered Monday, Tuesday, Thursday and Friday during the months of June, July and August, and can be arranged upon request during other times of the year.